Understanding PEA, Pre-Feasibility and Feasibility Studies
Preliminary Economic Assessments (PEA), Pre-Feasibility (PFS) and Feasibility Studies serve as economic and engineering evaluations conducted to assess the viability of developing and operating a profitable mining operation on a specific mineral deposit.
PEA and PFS represent the final stages of mineral exploration, acting as crucial transitions that bridge the gap between exploration and advanced development activities, and actual mining operations. (You can refer to the complete list of phases by clicking here.)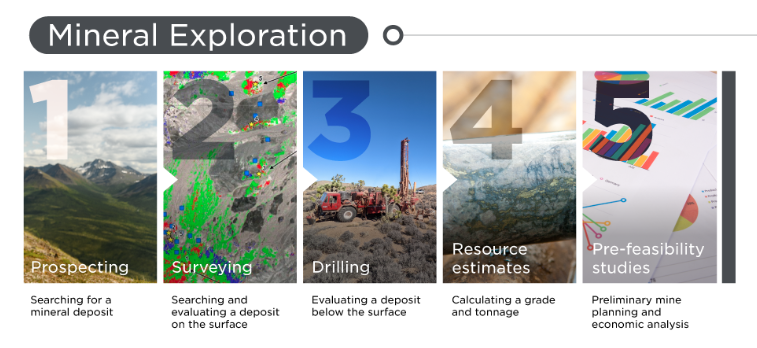 After a junior mining company finalizes a resource estimate, it faces a pivotal choice: either to halt the project, carry on drilling in pursuit of expanding the resource, or move forward by conducting a preliminary economic assessment or pre-feasibility study.
Preliminary Economic Assessment (PEA)
Preliminary assessments, also known as scoping studies, serve as an initial evaluation of the economic viability of developing a mine on a mineral deposit. These assessments rely on industry standards rather than specific on-site details such as mining methods, rates of production, recovery and equipment. This is usually performed to assess whether conducting a pre-feasibility study and, subsequently, a feasibility study is justifiable in terms of cost.
Pre-Feasibility and Feasibility Studies
Pre-Feasibility studies are detailed studies that employ project-specific factors and data, in conjunction with industry standards. These comprehensive studies typically encompass various options pertaining to the technical and economic aspects of a project. The primary purposes of pre-feasibility studies are to support ongoing exploration efforts, attract potential joint venture partners, and provide a rationale for advancing to a complete feasibility study.
Full feasibility studies focus on a particular development option and are comprehensive and extensive investigations conducted to validate and support mine development plans. These studies typically serve as the foundation for securing mine financing. During a feasibility study, all facets of the operation are meticulously examined, and the data utilized to construct the economic model are tailored to the specific deposit under consideration.
Pre-feasibility and feasibility studies yield several crucial outcomes, including the mine's production rate, mine life, metal recovery rate, capital cost, net present value (NPV) and internal rate of return (IRR). These outcomes play a vital role in evaluating the project's feasibility and comparing it to other similar projects.